Everest Base Camp Trek is one of the best destination in the everest region is one of the famous routes in Nepal. From this trekking routes, trekkers can observe Mount Everest. Mountain Everest is Earth's highest mountain. Mount Everest as known as Sagarmatha in Nepali and Chomolungma in Tibetan. Mountain Everest height is 8,848m from the sea level. Mount Everest lies in the Mahalangur Range.
Everest region is surrounded a number of peaks like Lhotse, (27,940 feet/8,516 meters), Nuptse, (25,771 feet/7,855 meters), Khumbuche (6640m) Lho La (6000m)Thamserku (6862m) Ama Dablam (6812m) Tawache (7171m) Pumori (7171m) khanga(6685m) lighting (6695m) and Changtobse, (24,870 feet/7,580 meters), Number peak(6969m ), Karyolung(6396m),Island peak(6189m), etc.People are living in the highlands region are certainly, Nepalese nevertheless their ancestor being of the Tibetan origin.
Most of the people who live in a higher region in the Everest they look like Tibetans. Everest region is everywhere higher altitudes region so that cannot Survive any wild animal life and vegetation but some wild animals inhabit in the Everest region are Musk deer, wild yak, red panda, snow leopard, and Himalayan black bears at lower altitudes Some vegetation can support in the higher region are birch; juniper, blue pines, firs, bamboo, and rhododendron grow in the lower areas. There are no plants above 3500 matters.
Everest region we can find numbers of Himalayan thars, deer, and langur monkeys. Here are some mountain wild foxes, martens, and Himalayan wolvesEverest Trekking region through some rugged, natural beautiful terrain in the world. Everest Base Camp is overjoyed breathtaking views nevertheless some tallest peaks found on the world.
Everest base came famous for trekking because Everest Base Camp trekking is joined with beautiful views. There are many peaceful, monasteries; cultures and traditions shrouded in mystery. The Everest Base Camp trek is a classic trek which follows in the way of Tenzing & Hillary Airport from Lukla and ends with the way up to Kala Pattar for marvelous views of Everest.
Everest region by Geographically is a rugged rocky valley and alpine Tree forests. Some area is green Meadows in the Sherpa villages and some area is glaciers and ice falls. Everest region trail is taking you into some most dramatic landscapes. Everest region trekking is once in a lifetime, therefore, it is an opportunity to observe the most magnificent scenery that you can imagine in your whole life.
---
Day 01: Kathmandu to Lukla (2830m.) to Phakding (2,652m.)
Day 02: Phakding to Namchebazar (3,446m.)
Day 03: Rest at Namche Bazaar
Day 04: Namche Bazaar to Thyangboche (3,897m.)
Day 05: Thyangboche to Pheriche (4,252m.)
Day 06: Pheriche to Lobuche( 4,930m.)
Day 07: Lobuche to Kala Patter(5,545m.) to Gorakshep(5,151m.)
Day 08: Gorakshep to Everest Base camp and back to Lobuche
Day 09: Lobuche to Dingboche.
Day 10: Dingboche to Thyangboche.
Day 11: Thyangboche to Namche Bazar.
Day 12: Namche Bazar to Phakding .
Day 13: Phakding to Lukla.
Day 14: Lukla to Kathmandu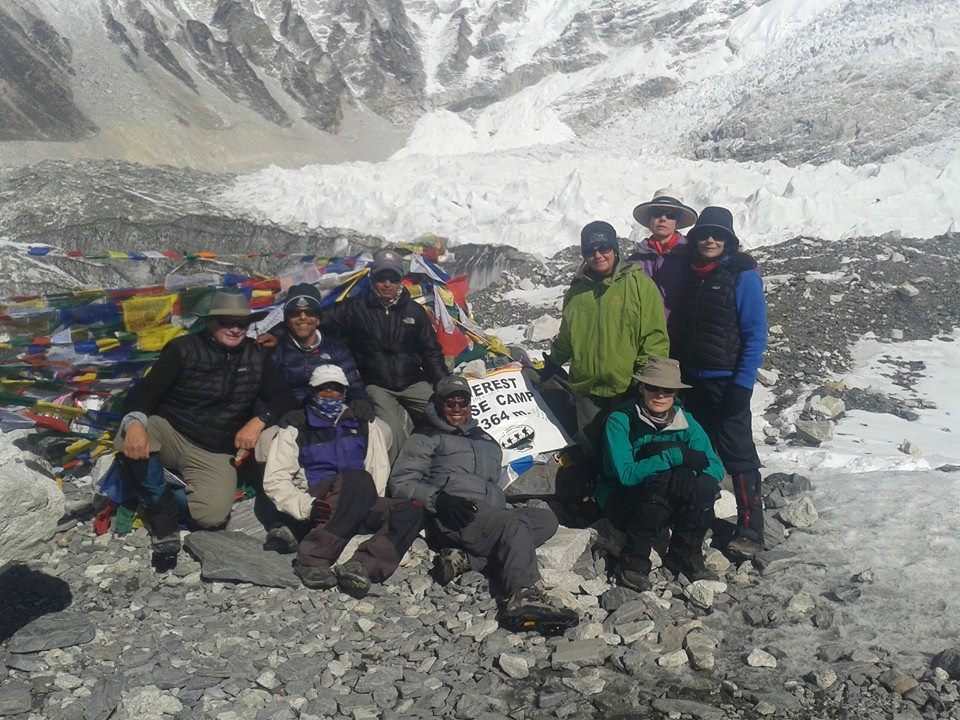 Everest Base Camp trek 14 days over views
Day 01: – Kathmandu (1350m) to Lukla (2850) to Phakding (2650m): –
Fly from Kathmandu Airport to Lukla Aiport for about 30 minutes. Then, meet all the trekking assistance in Lukla have tea, coffee in the hotel and make all the backpacking and continue trek to Phakding about 3 hrs. The trekking route is a small ridge from where one goes to the Surke and pass below to Chaurikharka. We pass to the field and keep continue to the Thodokoshi about 2 hrs. When we reach Thadokoshi and have lunch. After lunch keep continues the phakding about 1:30 minutes. Stay overnight in Phakding at the teahouse lodge.
Day 02: – Phakding to Namche Bazar (3535): about 5 hours.
After breakfast start walking, today we are walking so beautiful area through marvelous Rhododendron, Magnolia and Fir forest and several Sherpa villages offer welcome teashops and increase of snow peak of Mountain views and finally, we reach Namche Bazar. Namche Bazar is the main touristic area in the Khumbu region and also main shopping center so after lunch surrounding the market area and stay overnight at Namche Bazar in the lodge.
Day 03: Namche Bazar: – Rest day for acclimatization:-
Rest day for acclimatization. After breakfast climb up to Sherpa museum and see the Mountain Everest, Lhotse, Lhotse Shahar, Ama Dablam surrounded Syangboche, Khumjung and to Namche stay overnight at same hotel.
Day 04: – Namche Bazar to Tyangboche (3963m) or Debuche (3650m): –
After breakfast start continues trekking lead to Fungi Thenga about 3 hrs lunch at Phungithenga. After lunch climbing up another 2:30 minutes and reaches to Tengboche. From Tengboche, if the good weather we are able to see Mountain Everest, Lhotse, Lhotse Shahar, Ama dablam, Thamserku and many show peaks. Visit Tengboche Buddhist monastery with your guide and descend about 25 minutes to reaches Debuche. Stay Overnight at Debuche in the teahouse.
Day 05: – Debuche to Pheriche (4200m) about 6 hrs including the lunch: –
After breakfast, we continue our trekking we following the Dudhkoshi river about 1 hrs and cross the suspensive bridge and start to up about 1 hrs and reach Pangboche. Pangboche village where what is we can see the Yeti head in the monastery rest couple of minutes and with tea, coffee and continue toward Somare (4100m) lunch at Somare. After Lunch, it is not easy to walk route because after 1200 this area is windy to continue to Pheriche about 2 hrs. Stay overnight at Pheriche in the teahouse.
Day 06: – Pheriche rest day for acclimatization: –
After breakfast climb to the Thatcher peak about 2-3 hrs. to make acclimatization and after 3 o clock you can go to a hospital to lesson acclimatization speech. before 3 'o' clock there is speech every day by Doctor.
Day 07: – Pheriche to Lobuche (4900m): –
V After breakfast start the trek for Labuche we continue to follow the Pheriche valley 1:30 hrs and start to climb continue Thukla about 2 hrs and we have our lunch in Thukla. After lunch continues to climb the Thukla pass about 1:30 hrs. reach on the top up Thukla pass there is much memory of people who die in the Everest. Thukla pass to Labuche is gradual up about 1hrs. Stay overnight at Labuche in the teahouse lodge.
Day 08: – Labuche to Gorakshpe (5100m): –
After breakfast, the trail goes to the Labuche pass its take about 2 hrs. After Labuche pass the trail is gradual up then we following glacier to Gorakshep about 2 hrs. This part is providing for all the tourist marvelous views of Everest, Pumori, Lola, Kalpather, and Everest Base Camp. After reaching Gorakshep and check in the hotel and lunch. After Lunch goes to Everest Base Camp and back to the Gorakshep. Stay overnight at Gorekshep in the teahouse.
Day 09: -Gorakshep to Kalapather and back to Dingboche: –
Everest Base Camp is the main camp for the Mountaineers situated at the elevation of 5,364 meters. The Trekkers feel very happy to reach there as it makes them a lifetime memory for their adventurous fulfillment.
Day 10: – Dingboche to Namche Bazar: –
descending till Pangboche and cross the Dudkoshi river and lunch in the Devuche after lunch ascending about 45 minutes till to the Tengboche after down to phungithanga about 1:45 and cross the again Dudkoshi river and start to climbing 1 hrs reach to the Kyanjungma after Kyanjumna to Namche is gradually flat about 2 hrs. Stay overnight at the Lodge in Namche.
Day 11: – Namche Bazar to Phakding: –
After breakfast start to descending about 1 hrs to a dhud Koshi river and cross the suspense bridge. Dudhkoshi River to Jorselle is about 1 hrs follow the riverside of Dudh Koshi and reach Jorselle before Jonelle also we need to cross again the suspensive Dhud Dhudh Koshi bridge and reach to Jonelle there has tea, coffee and continue to the Namche Bazaar. After tea, coffee accents a few minutes and cross the bridge of Dhudkoshi and start to up till national park office at Monju village than all the up and down about 2:30 reach to Phakding. Stay overnight phakding in the teahouse.
Day 12: – Phakding to Lukla about 3 hrs.: – slowly walking distance.
Day 13: – Lukla to Kathmandu by flight: –
From Lukla to Kathmandu by flight approximately 30 minutes about the flight. From Kathmandu, domestic airport transfer to the hotel and day time is rest and visit Thamel area for a souvenir to your family.
Day 14: – From hotel to Tribhuvan international airport: –
today is free or last minute you have few hrs. special shopping for your relatives. If you have more time you can do some shopping or sightseeing then we will drop you to the International airport to catch your flight back to your home and wish for your Safe journey.
A private departures on any day all around the year can be arranged for this trek/tour, for more details and dates
E-mail
info@nepalfreelanceguide.com
AVAILABILITY OPTIONS
OPENED:

This date is available and open for bookings.


LIMITED:

There are very limited number of available places on this departure. Immediate booking.


GUARANTEED:

We have reached minimum numbers and this trip is guaranteed to depart.


CLOSED:

This date is currently unavailable. Please contact us, if you are interested in travelling on this date.
Your Program Duration = 14 days Days
All the Prices are in GBP (£) Per Person.
Cost Include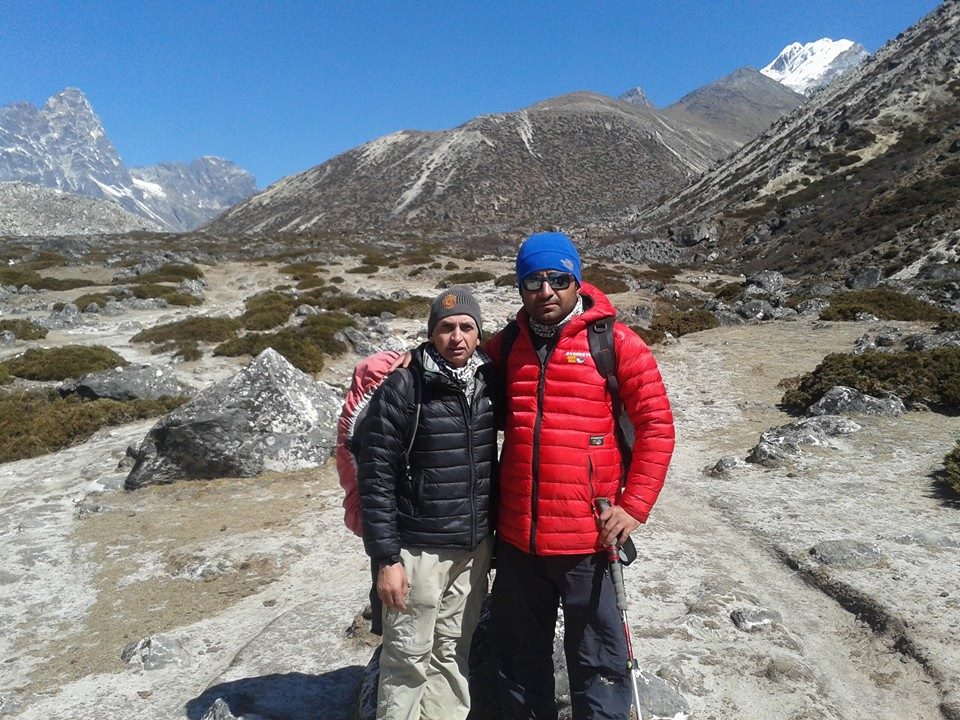 Cost Included
All airport, hotel airport transfers.
2-night hotel in Kathmandu.
National Park permit & Pasang Lhambu village entry permit.
Flight fare from Kathmandu-Lukla-Kathmandu.
Accommodation in the tea house,
Food, Tea/coffee during trek.
Guide: – including salary, insurance, equipment, flight, food and lodging.
Porter: – including salary, insurance, equipment, food and lodging.
For guest: -Down jacket, Good sleeping bag (down jacket and sleeping bag are to be returned after trip completion).
Transfer from airport to hotel in Kathmandu
Final departure transfer
All government and local taxes.
Final departure from hotel to international airport transfer.
Cost Exclude
Cost excluded
Food in Kathmandu ( Lunch & Dinner).
• Bakery food during the trek.
• Nepal Visa fee.
• International airfare.
• Extra night accommodation in Kathmandu.
• Travel and rescue insurance if guest get mountain sickness and need to rescue helicopter.
• Personal expenses example (phone calls, laundry service , bar bills, battery recharge, WIFI charge, extra porters, bottle water or boiled water, shower etc.)
• Tips for guide and porters